Get Your FREE Credit Card @Home
✔️ In Just 5 Minutes
✔️ FREE Account Opening
✔️ No Processing Fee
✔️ No Need To Go Bank
✔️ With Your Adhar Card, PAN Card, Email ID, And Mobile Number Linked With Your Adhar
Credit Card And Their Features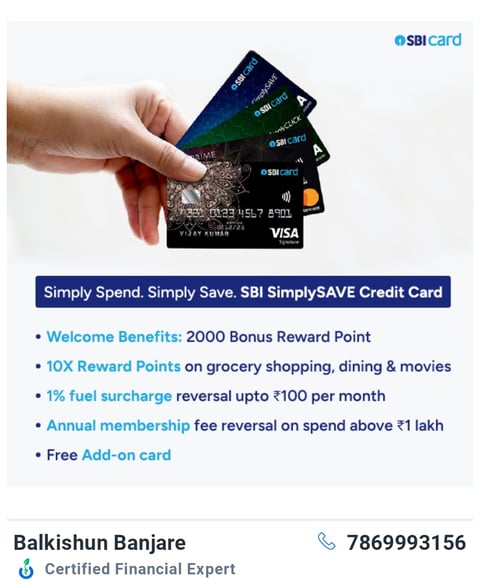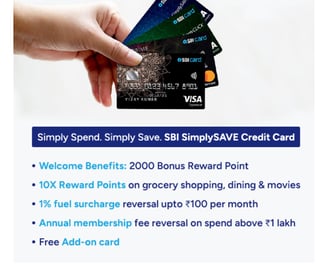 Description
SBI Simply SAVE Credit Card is a basic credit card that is best suited for everyday expenses. The card, as the name suggests, helps you earn big rewards on your daily expenses and other categories. With this credit card, you can earn higher rewards on selected categories, such as grocery, departmental store purchases, dining and movies. Read on to know more about SimplySAVE SBI Credit Card.
Features
✔️ Get SBI simply saving credit card at an annual fee of just ₹499 + GST
✔️ Welcome Benefits: Get 2000 bonus reward points worth ₹500 on spending ₹2000 in 60 days.
✔️ 10X Reward Points on grocery shopping, dining & movies (4 reward points = ₹1)
✔️ Fuel Surcharge Reversal up to ₹100 per month (on fuel bill between ₹500 to ₹3000)
✔️ Annual membership fee is reversed from next year if total spend is more than ₹lakh in the previous year
✔️ Free add on card for family members
Requirements
✔️ Age above 23 years
✔️ Only Salaried employees with a monthly salary above Rs.25,000
✔️ Credit Score: 700+
Documents required
✔️ Aadhaar card
✔️ PAN card
✔️ Income Proof
2.FREE IDFC Bank Credit Card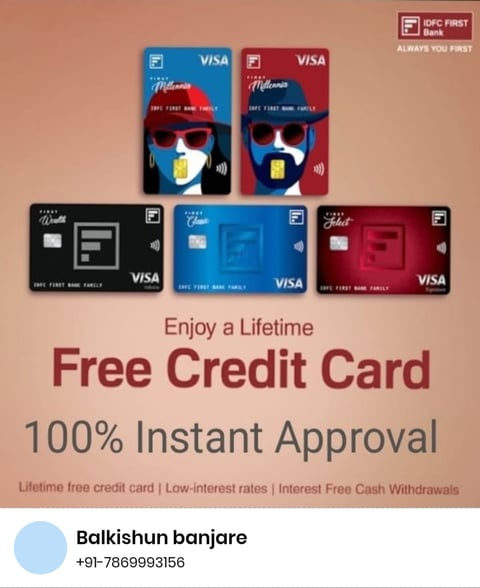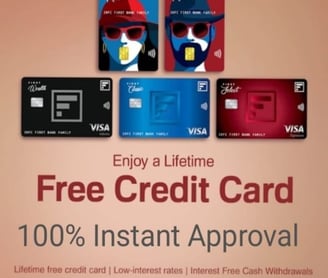 Description
IDFC FIRST Bank offers 5 credit cards across various categories that are curated specifically to cater to the needs and requirements of the customers. These cards come under the categories of Lifestyle and Rewards and are offered in 5 different variants- First Classic, First Select, First Wealth, First Millennia, First WOW.
Features
✔️Lifetime Free
✔️100% digital & paperless process
✔️Low-interest rates
✔️1% Fuel surcharge waiver at Rs200/ month
✔️Railway and airport lounge access
✔️Discounts on movie tickets and dining at restaurants
✔️Interest-free cash withdrawal from ATMs for up to 48 days from the date of card issuance
Requirements
✔️Employment: Salaried or self-employed??
✔️Age Group: 21+ years
✔️Income: Rs.30,000/month for salaried & Rs.5 Lakh and above tax returns for self-employed applicants
✔️Credit Score: 710+
Documents Required
✔️Aadhaar Card
✔️ PAN Card
✔️Address proof
✔️Income proof